The fourth of July is always a time for celebration. A moment to light up your grill, invite your friends over, and enjoy the fireworks. It is also a time to remember what brings us together and honor the core values that make America the amazing country it is.
It is also a time of deals and offers on everything red white and blue. From swag to decorations, the fourth of July has something for everyone.
Here is our list of the 5 best products to celebrate our great nation.
Move over, Santa Clause! The real white-bearded American hero is here and he is 4-foot tall. This inflatable Uncle Sam is just what you need to let your neighbors know you are proud to be an American and also, a guy with a lot of storage space.
Uncle Sam is perfect for both night and day BBQs since it lights up from the inside and can be tethered to your lawn in case the wind feels like taking him for a ride. It can be easily installed indoors and outdoors, just plug it in and you are good to go.
Get it at Walmart
2- Patriotic Flocked Star Bunting
Party like it's 1777 with a patriotic flocked star bunting! This product is perfect for those who want to show their American pride with a little more taste, dare I say, southern charm. Perfect for daytime and nighttime outdoor gatherings. Most of them are 36 in. x 72 in, so you can add them to your door, stairs, fence, or window!
Get it at The Home Depot
3- Americana River Tube Two-Seater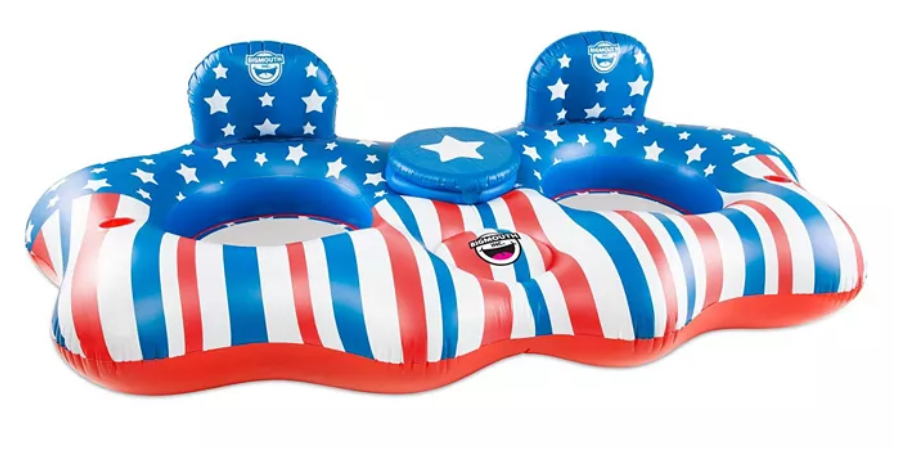 What is more American than a nice BBQ by the pool? A nice BBQ by the pool with an inflatable two-seater with built-in cup holders! I mean, yes, it can be a little over the top, but how could the greatest nation on earth settle for less?
Get it at Macy's
4- American Flag Solid Cotton Napkins
Yes, the fourth is a time to party, celebrate and honor the ones that build this nation. That is why sometimes it is a good idea to be tasteful when choosing our patriotic homewares. And nothing says tasteful like pure cotton napkins with an engraved flag on the side.
Perfect for a nice little dinner with friends, or a family event. Just try not to wipe your mouth on the red, white, and blue, unless you want to spend the rest of the evening doing the dishes.
Get it at Pottery Barn
5- Patriotic Paper Dinner Plates
If you are throwing a barbecue for your family, seize the opportunity to impress them by switching regular (and boring) white paper plates for Patriotic Paper Dinner Plates! Made in the USA, these paper plates are super sturdy and build to handle even the biggest burger you can imagine.
Perfect for a fourth of July party, labor day, themed parties, and any day you feel the need to celebrate living in the land of the free. 100% recyclable and compostable, just the way it's meant to be.
Get it at Kroger
My Deals 365 has the best catalogs, weekly ads, and offers to save on everything you need to enjoy the fourth of July! Get the latest promotions from your favorite stores right now at https://mydeals365.com/